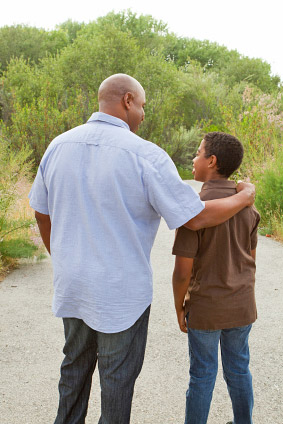 In a society increasing weakened by an entitlement mentality, you can choose to make a difference by promoting the Action Principles® philosophy of self-improvement, self-reliance and service to others.
If you had responsible adults in your life; relatives, teachers, clergy, coaches who taught you positive values and a strong work ethic, you were blessed. You made mistakes or acted inappropriately. Someone cared. Someone was interested enough in your development to guide you back from wrong to right.
Everyone is not so fortunate to have a supportive upbringing. Some people grew up in dysfunctional families where there are few role models. Others were reared in what may seem like privilege but were actually coddled into weakness and dependency.
The Action Principles® can help to fill a void. They show that there is a proper way to act. To those who did learn, the Action Principles® serve as a reminder. To those who did not receive proper guidance, they light the way.
Handing someone an Action Principles® book does not change them. Reading the Action Principles® to them will not change them. But, these acts do highlight to them that someone cares.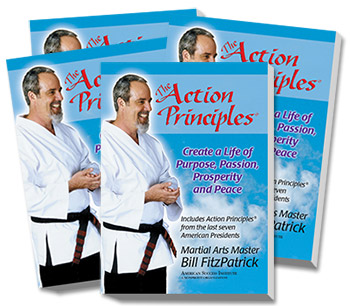 Of course, individuals must be motivated to want to change for their own reasons. And, when that moment for change arrives, let your small gift of the Action Principles® be there for inspiration and motivation. Any of the principles may be just enough of a catalyst to encourage someone to take the opportunity to do something better for themselves, for their families or their communities.
Buy a book for yourself. Then, think creatively. Buy books as small or tuck-in gifts. Have an extra book available to support a friend working through a tough situation. Use an Action Principle® to open meetings to stimulate positive conversation. Donate books to local organizations. Non-profit organizations may wish to use the Action Principles® [cover price $20] as a cost-effective fundraising tool. Anonymously, leave books behind in public places. Who knows, your book just might find its way to someone in need. This is the spirit of the Action Principles®.
| | | |
| --- | --- | --- |
| Two books [signed and dedicated by Bill] | | |
| 5 books | | |
| 20 books | | |
| 100 books - Become an Action Principles Champion | | $283. |
| Special Limited Time Offer - 100 Books for $100 | | |
Postpaid on all U.S. orders.
International rates, please inquire - [email protected]
To order by mail - ASI, 31 Central St. Wellesley, MA 02482